Flash trend alert! All the A-listers are experimenting with rainbow hair hues.
Would you dare to go as bright as these celebrities?

By Rebecca Cox Wednesday, 22 May 2013 for Glamour Magazine UK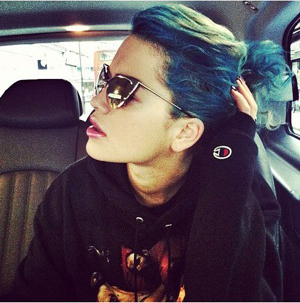 Rita Ora's joined the rainbow hair hue crew,
showing off her new blue locks on Instagram.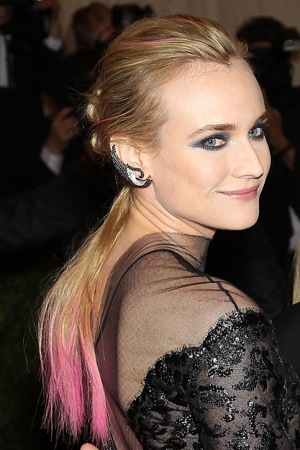 When Diane Kruger is getting in on a trend,
that's our call to action. Diane showed off these pink tips
at the punk-themed 2013 Met Ball.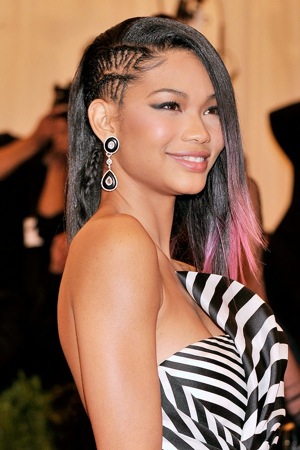 Just a hint of pink is how Chanel Iman rocks the rainbow
hair trend.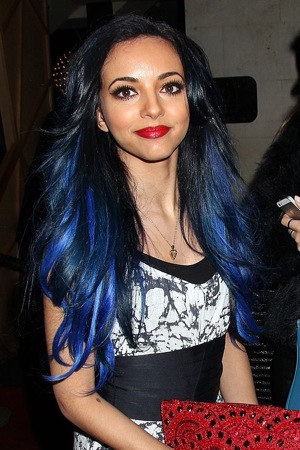 Just days after showing off teal tips, Jade Thirlwall has gone
cobalt blue. That's three blue-haired beauties in three days.
A definite trend, we say.

See what happened when we put the blue hair trend on trial.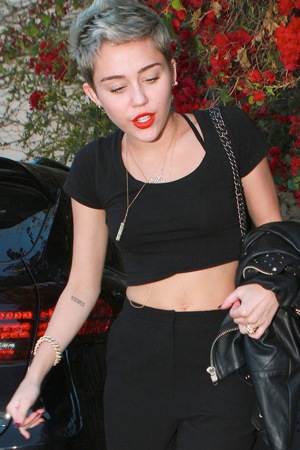 Is it blue? Is it blond? Miley Cyrus' crop certainly looks blue to
us, but she tweeted saying "My hurrr ain't blue. That shits
PLATINUM." We're currently collecting further evidence and
will report back.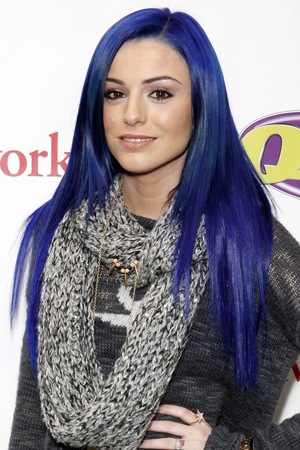 Hair chameleon Cher Lloyd joins the rainbow hair brigade of
2013 with this cobalt blue dye-job.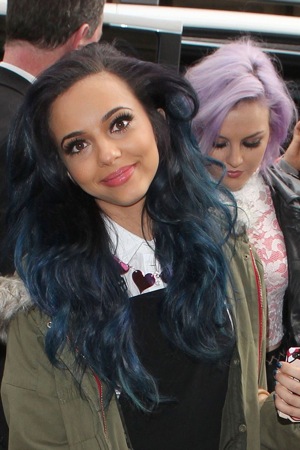 Just when we thought the rainbow hair trend was staying firmly
in 2012, Little Mixer Jade Thirlwall steps out with teal tips at the
end of her long raven curls: cute!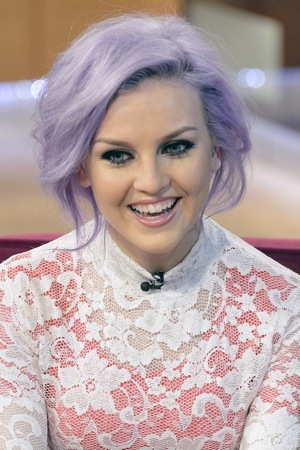 ...Follow Little Mixer Perrie Edwards is also keeping the trend
going strong with a full head of candy-floss lavender locks.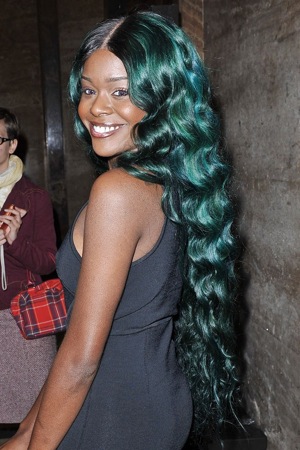 Azealia Banks is mermaid-tastic at Paris Fashion Week with
super-long sea-green curls.
Approach this look with caution: not many people can pull off
green hair, but Azealia is one of the lucky few!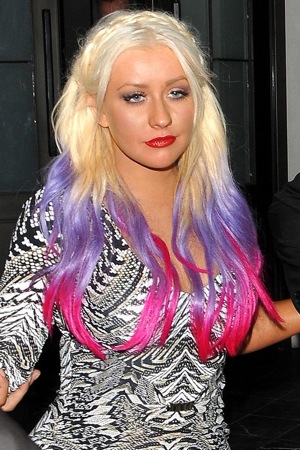 Christina Aguilera makes a style statement by adding bright
pink and purple tips to her platinum-blond locks.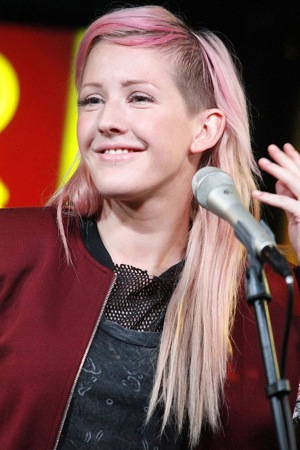 Ellie Goulding is the newest paid-up member of the exclusive
celebrity rainbow hair gang.
Stepping out in America with her new pastel-pink locks, Ellie
keeps the look edgy with her signature undercut.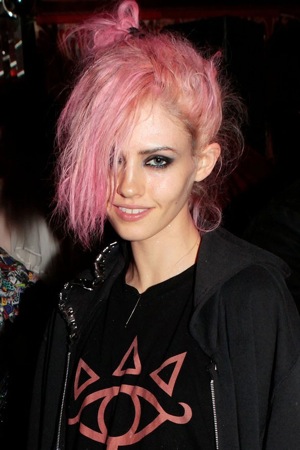 Supermodel Charlotte Free has made this bold pink hair hue
her signature.
We love her punk-princess beauty attitude.
Avril Lavigne really didn't hold back with the hair dye, did she?
The singer went for a punky version of rainbow hair,
adding neon green and pink streaks.
Is that a touch of blue we spy in Demi Lovato's hair?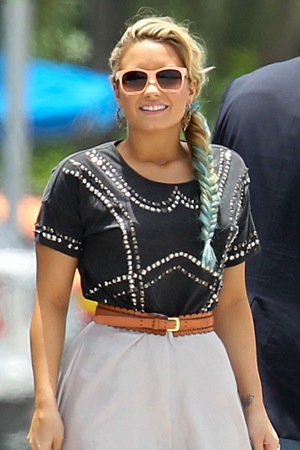 ...Yes! We love this pale denim-blue dip-dye and
cool summer side-braid.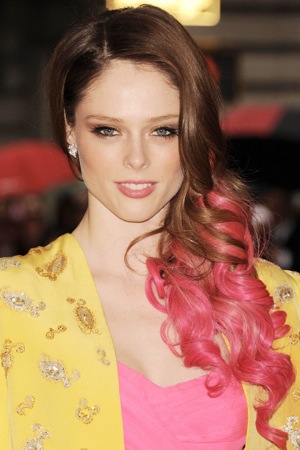 Coco Rocha adds a pop of colour to her look with a hot pink
curly dip-dye. Would you dare to dye?
Lady Gaga gets in on the trend with rainbow streaks in a
super-long side-swept style.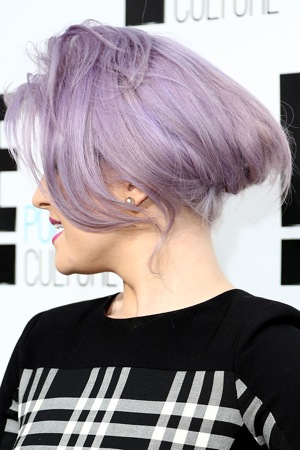 Why not experiment with a lovely lilac hair hue this season,
like colour chameleonKelly Osbourne. Go on!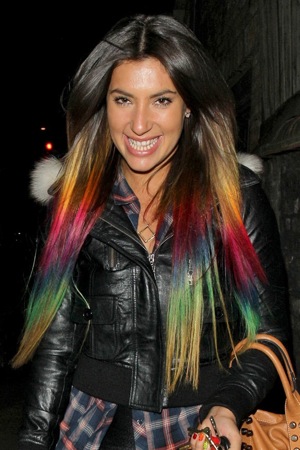 Made In Chelsea's Gabriella Ellis takes the rainbow hair trend
to new lengths with super-long locks every colour imaginable.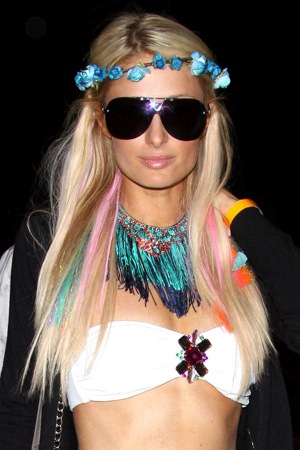 Let Paris Hilton be your festival hair guide: she looks gorgeous
at Coachella with pops of pink, green and blue hair colour and
a pretty blue floral headband.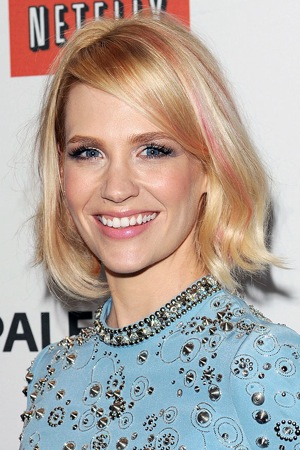 January Jones is the latest A-lister to the rainbow hair party,
but her new look isn't too bold.
A few pale pink streaks are just about as wild as JJ gets.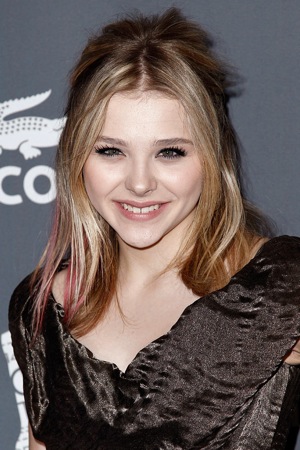 The gorgeous Chloe Moretz experimented with the look,
adding hot pink streaks to her golden-blonde locks.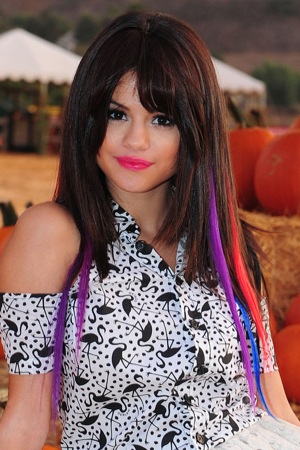 Selena Gomez gets involved with the rainbow hair colour
trend, sporting bright purple, blue and orange streaks
in her rich brunette hair. Think you could pull off this look?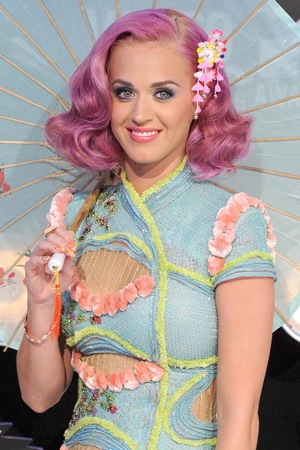 We were surprised when Katy Perryditched her signature raven
locks to transform back to her natural blonde colour.
But we were plain shocked when she stepped out sporting this
bright pink hue after just a few days as a blonde.
But this wasn't the end of her colour transformation...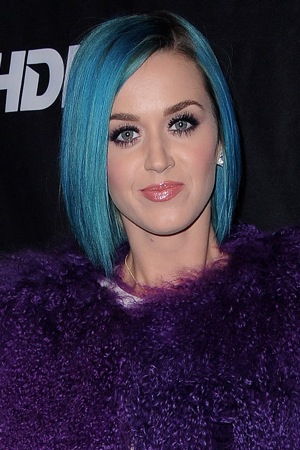 ...Next came this bold blue hue.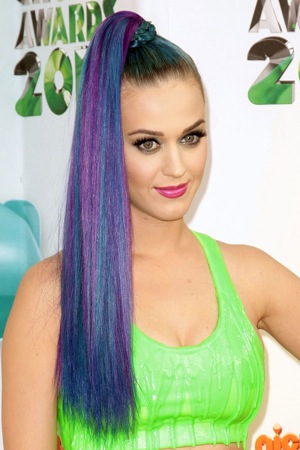 ...Followed by a high-rise multi-coloured pony. We adore Katy
Perry's fashion-forward attitude to her hair, and this super-
long rainbow ponytail is one of our favourite looks to date.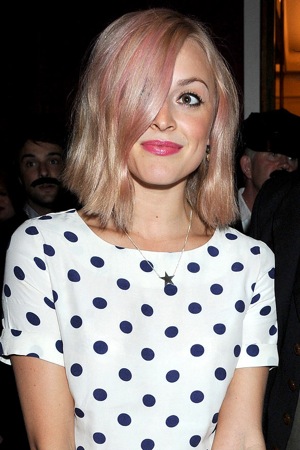 Fearne Cotton got involved with the trend just before her 30th
birthday with this faded pink colour.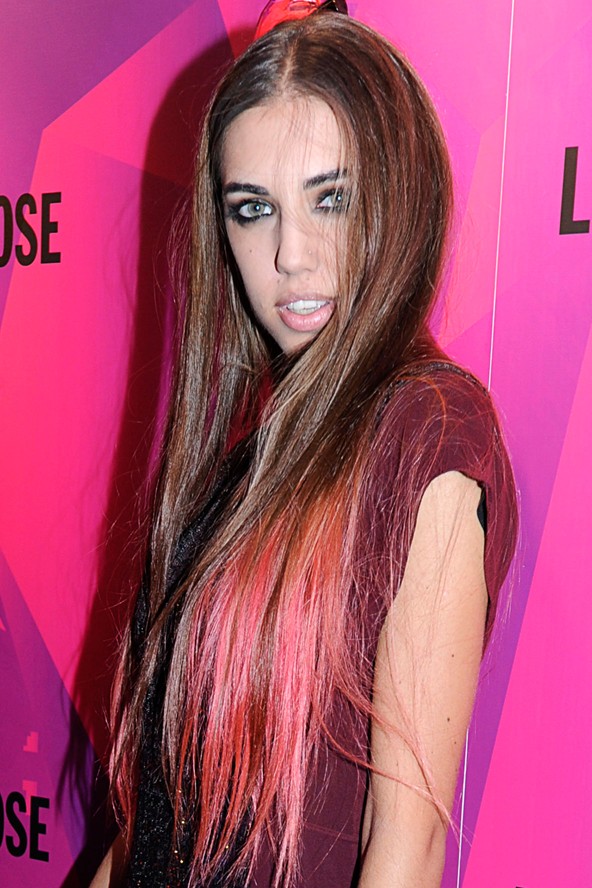 Up and coming 'it' girl Amber Le Bon proves dip-dye doesn't
have to be purely punk.
We think the subtle brown into baby pink looks gorgeous.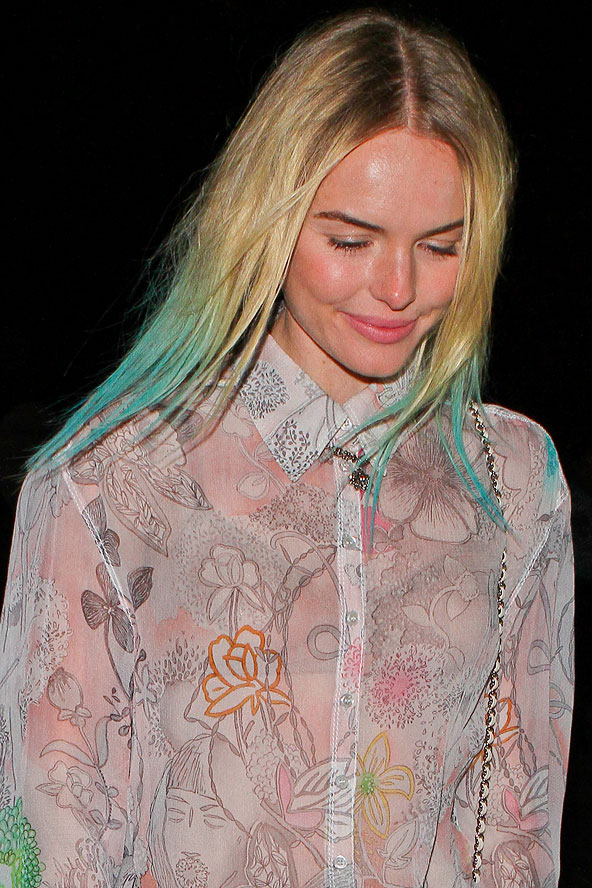 Thought you'd never see an A-list beauty sporting green
hair? Kate Bosworthshocked us all when she stepped out with
this green dip-dye. No more playing it safe.

HAIR INSPIRATION: 100 hot looks to try at home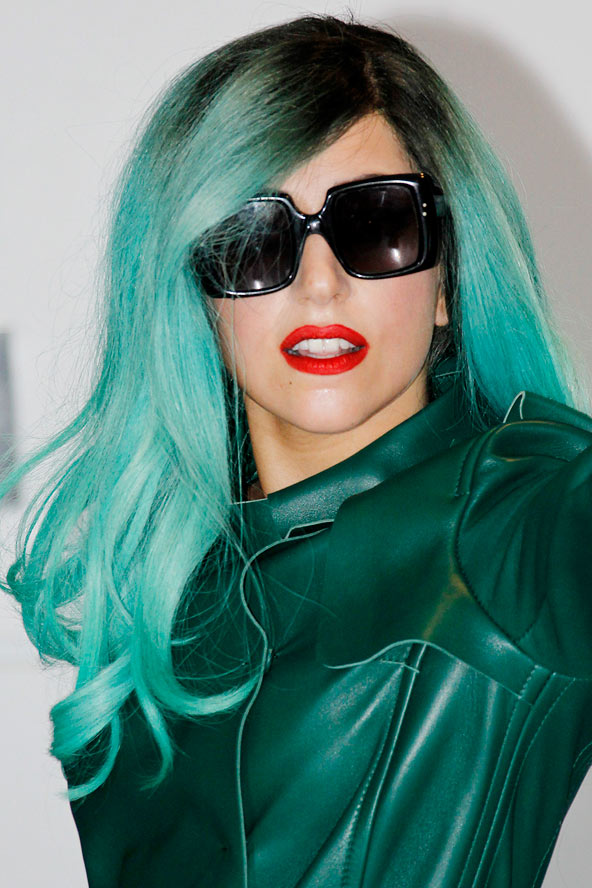 Queen of experimental style Lady Gaga can always be relied
upon to trial a new style. With a wig in every colour
(who knows what her real hair looks like), we actually love this
mint green hue on Lady G.

HAIR INSPIRATION: 100 hot looks to try at home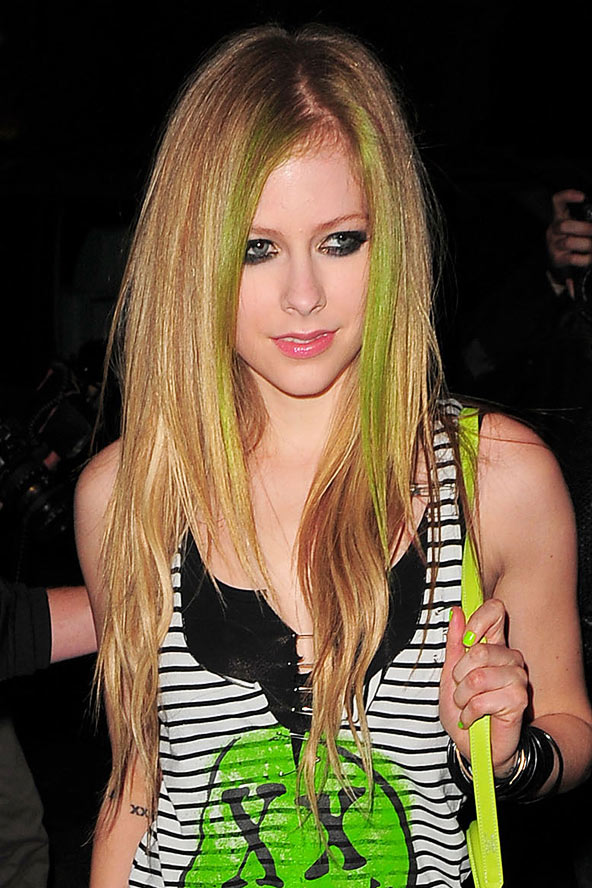 Pop punk princess Avril Lavigne plays with the trend with a
couple of slime-green streaks at the front of her hair.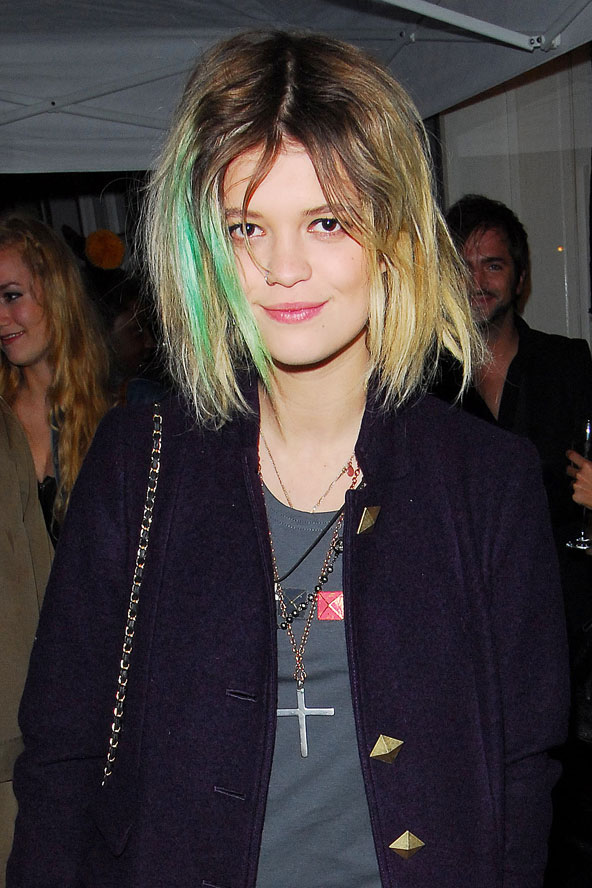 Grunge goddess Pixie Geldof gets involved with a nonchalant
hint of green at the front of her messy locks.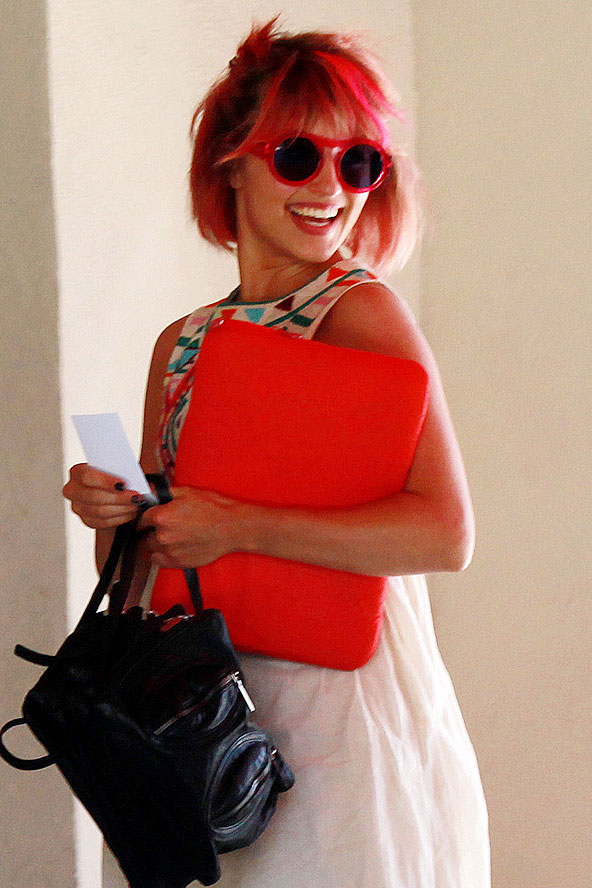 Grunge goddess Pixie Geldof gets involved with a nonchalant
hint of green at the front of her messy locks.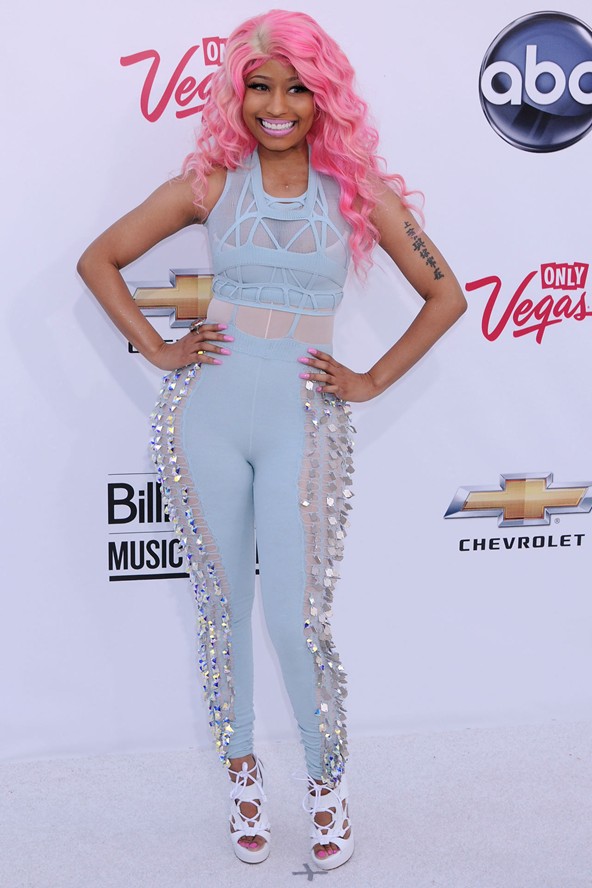 Are Nicki Minaj and Lady Gaga involved in some sort of
elaborate dare to change their hair colour more often than we
change our socks? Just one of her eye-popping styles, Nicki
wows with a candy-floss-pink hair hue.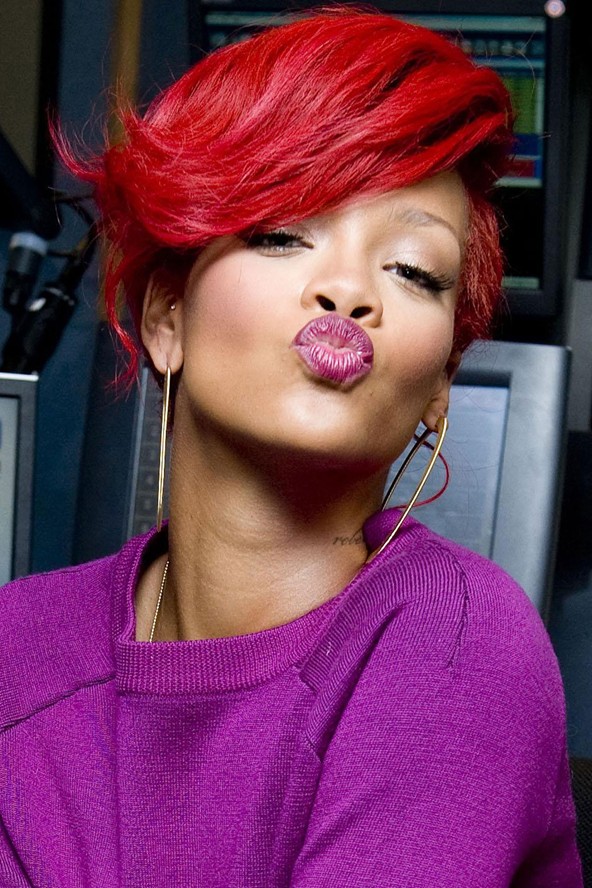 Hair chameleon Rihanna has tried most hair colours, but this
popping red is our favourite. Bold, bright and unbelievably
beautiful.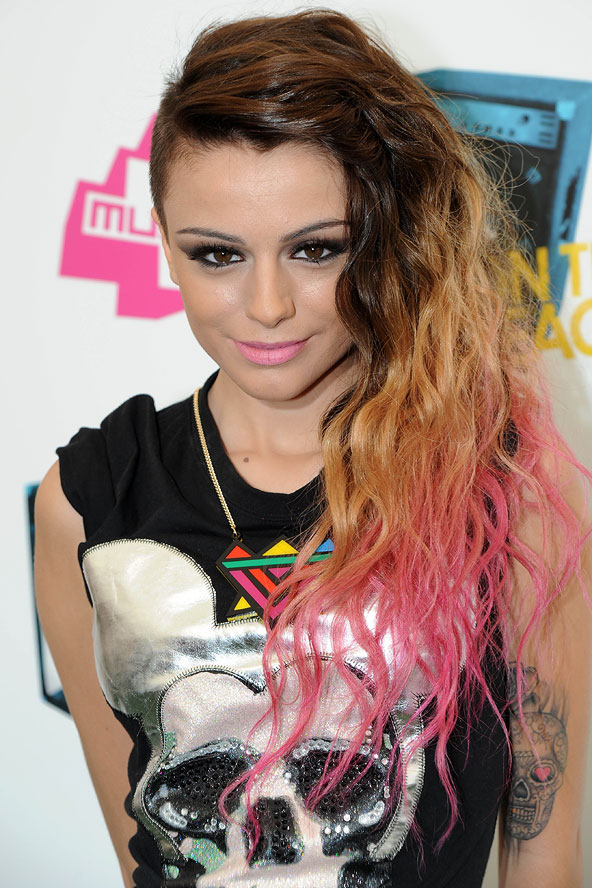 Before rocketing to number one in the music charts, X Factor
star Cher Lloyd was making waves on the hair and beauty
circuit with her ever changing locks. This pink dip-dye got the
pop punk seal of approval from us.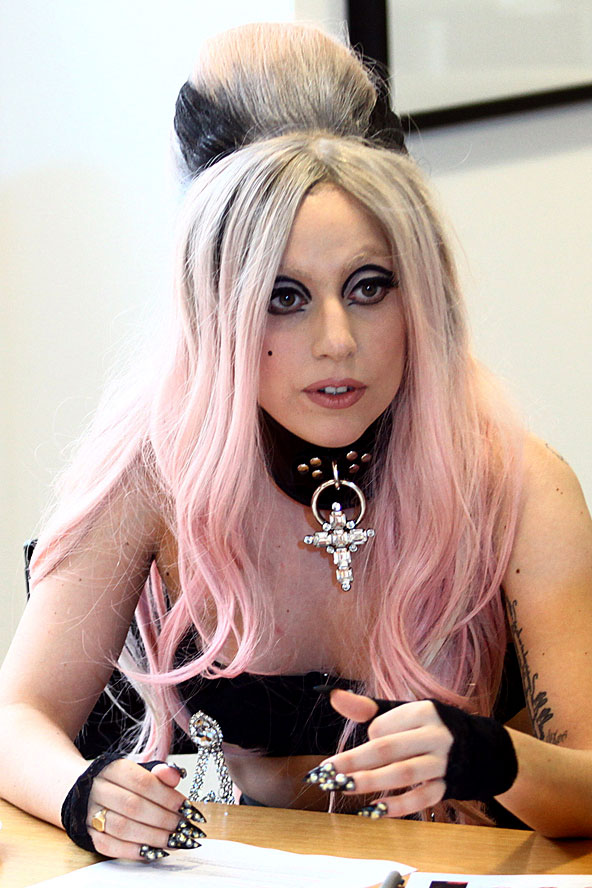 Lady Gaga makes another appearance in our hair colour
rainbow with this faded sugar-pink style.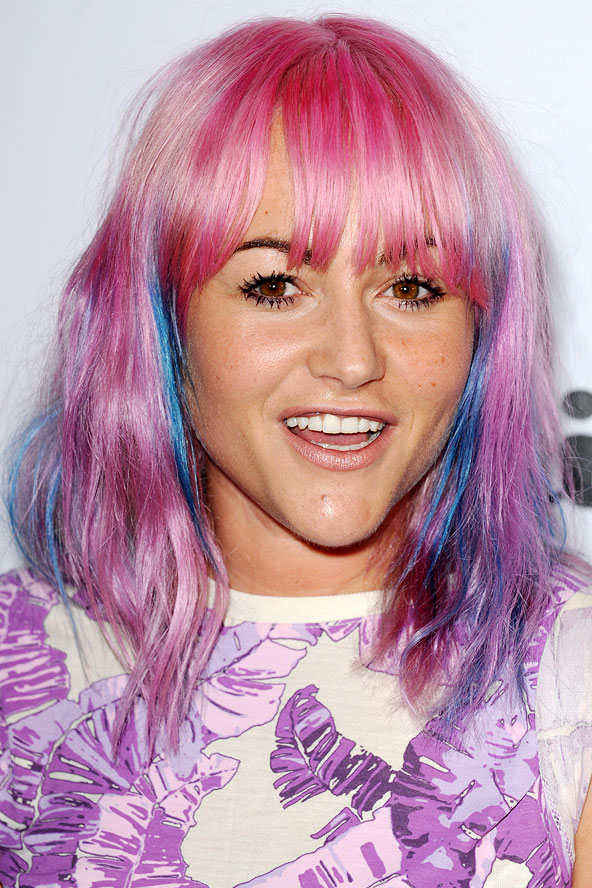 Colour-swap addict Jaime Winstone is no stranger to hitting
the hair dye bottle, and this multi-coloured pink and blue 'do is
one of her most experimental to date.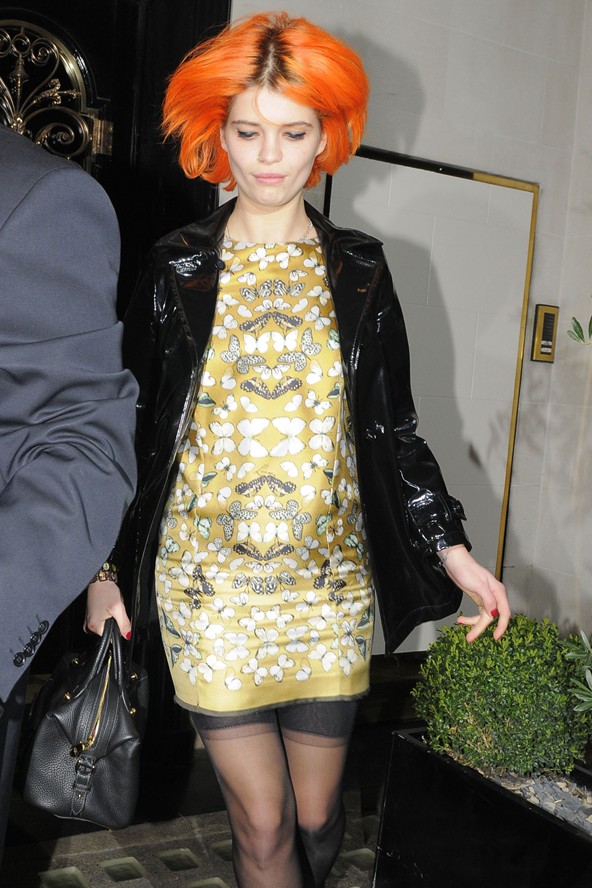 Feeling brave? Why not follow Pixie Geldof's lead. She's
ditched the green streaks and opted for a vibrant orange hue.
Go on, we dare you.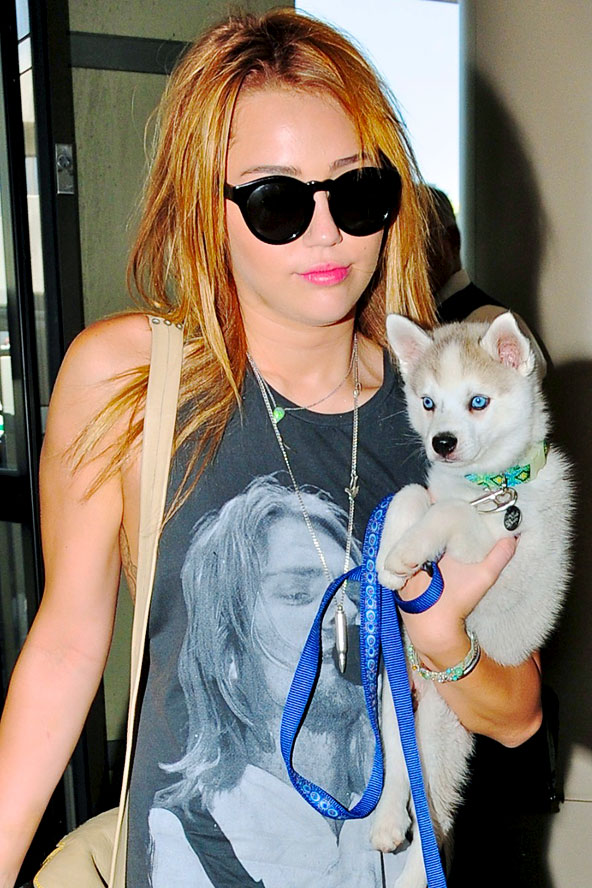 Miley Cyrus gives us a really wearable way to wear the trend
with a light tangerine colour. This shade is going to be huge for
autumn/winter - stay ahead of the fashion pack and get
involved now.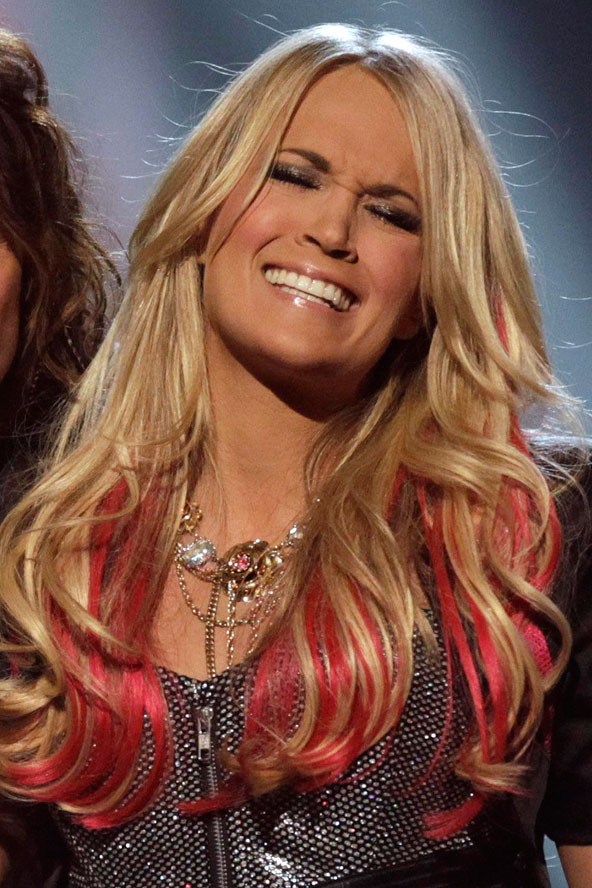 Carrie Underwood dips her toe in the rainbow hair hue trend
with a splash of colour in a few statement strands under her
blonde locks.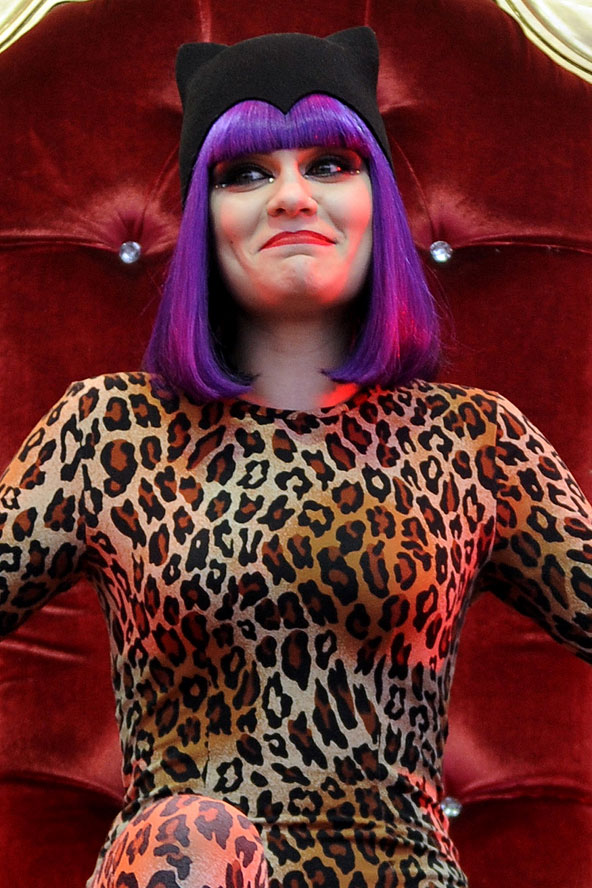 Going for all-out rainbow-fabulous frivolity?
Make like Jessie J and opt for a bold purple hue.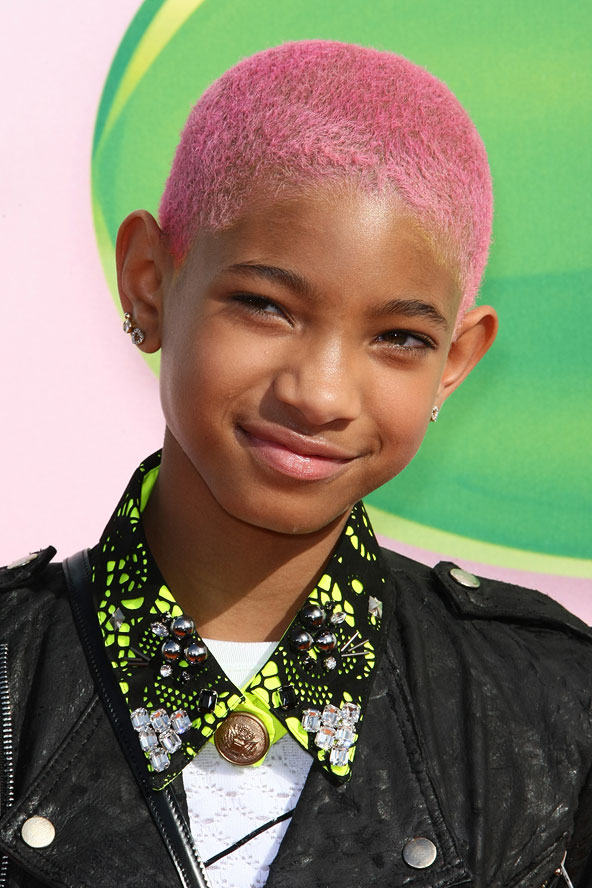 Willow Smith's bright pink, super-short crop might not be for
everyone, but we salute her beauty bravado.