"My character Sparkle has straight hair, so I wore a lot of wigs for the movie. Itwas fun to experiment with different styles…"

It's a Wig! proudly like to share the article on the magazine Sophisticate's BlackHair.
About that Hair (in the movie)…
Sparkle Head Hairstylist Kim Kimble used a variety of wigs, with some styles provided by It's aWig! (a company specializing in full, lace front, half and human hair wigs), to create custom-designed retro hairstyles for Jordin Sparks and the rest of the female cast. Here, SBH showsyou some of the It's a Wig! styles Kimble used on set and gives you a sneak peek at some ofthe mane pro's amazing tress transformations.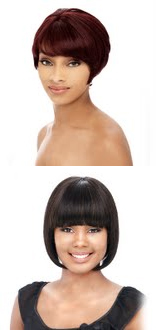 Beautiful Bobs
"These are mod '60s 'Vidal Sasson' bobs" explains Kimble, who created different styles for Carmen Ejogo, Tika Sumpter and Jordin Sparks. "I customized It's a Wig! bob wigs for each actress by cutting asymmetric shapes and flat-ironing them to style."
Amazing Angles
One of Jordin's favorite Sparkle hairstyles was an asymmetric bob. Prior to custom styling done by Kim Kimble, the It's a Wig! HH Tara human hair wig is detailed with a brow-brushing fringe and layered angles. "We had long hours on set, but it was fun because it was great to work with Jordin, Whitney and all the other cast members." Shares the film's hairstylist.
Timeless Style
Showcasing the classic shape of a traditional chin-length bob, the It's a Wig! HH Cloris human hair wig features a blunt-cut fringe and curved edge. "My team and I started prepping about 100 wigs weeks before we began shooting Sparkle." Reveals Kimble, who relied on her mother, hairstylist Jasmine Kimble, and hair assistant, Shannon Bakeman, to help customize the wigs.