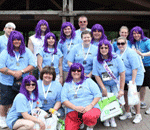 Event/ Hair/ Health at LivingCivil.com
As the numbers of females battling Cancer heightens, It's a Wig continues to put forth an effort to help tackle one of the side effects of Cancer Treatment: Chemotherapy. While under going Chemo treatment, it is expected for females to lose their hair; nonetheless It's a Wig has partnered with the American Cancer Society to support females and promote self-confidence during their hair loss stage. It's a Wig, provides Full and Half cap Wigs and Lace Wigs amongst others for consumers.
"American Cancer Society (ACS) has been provided wigs for their cancer patients from it's a Wig! As being a part of the national wide campaign 'Look Good Feel Better..', It's a Wig! tries to help cancer patients gain their confidence by wearing good wigs. Cancer patients struggling against hair loss received their favorite wigs at no cost. It's a Wig! Received 'Community Contribution Awards' from ACS. It's a Wig! Has partnered GWB Challenge since 2012 coloring George Washington Bridge by sponsoring color wigs for participants."
Read More
"My character Sparkle has straight hair, so I wore a lot of wigs for the movie. Itwas fun to experiment with different styles…"

It's a Wig! proudly like to share the article on the magazine Sophisticate's BlackHair.
Read More