by Petra Guglielmetti (article from glamour.com)
Beauty writer. Nail whisperer and black-belt lash curler. New Englander turned real housewifeof N.J., minus the chest glitter. Might get bangs.

Assuming you watched the Beyonce halftime show extravaganza, can you guess which beautytrend I speak of?
One-sided hairstyles! The asymmetrical look has been gaining momentum for a while now--andthat includes those half-shaved haircuts we've seen a lot of-- but I think Beyonce's never-endingparade of matching backup dancers in their half-swept-back hairstyles made it officially thehottest hairstyle in the universe at this moment.
As you may recall, B herself wore an asymmetrical hairstyle to the pre-Super Bowl pressconference.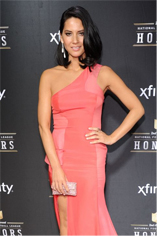 Meanwhile, on the red carpet over the weekend, several more celebrities went one-sided withtheir hair, including Olivia Munn
More articles of asymmetric hair style? Click the links:
http://www.glamour.com/beauty/blogs/girls-in-the-beauty-department/2011/05/would-you-wear-your-hair-pushe.html
http://www.glamour.com/beauty/blogs/girls-in-the-beauty-department/2012/03/are-you-doing-this-to-your-hai.html