RETRO HAIRSTYLE FOR FALL 2019
The trend of fashion is definitely circular one and we can see this has applied over many years. Boycott jeans disappeared and came back, so did gothic jackets, skinny jeans, baggy jeans, ties, etc. the whole fashion world is an intricate revolving table that spins the trend with unique flare and tweaks along the way. It is also notable that a lot of the retro styles are back with a bang this summer. They have flooded everywhere and celebrities are already on top of integrating their styles and character onto retro hair styles.
All in all, the truth remains that whatever is chic and new now would still at a point in time become retro and then archived into the continuous revolving loop of fashion leaving a mark in their decade what will, one day, be resurfaced by another fashion trend setter.
THE RETURN OF LEOPARD FASHION PRINT

As noted earlier, retro style has come back and the most notable of this fashion style is the animal print. The print that has held sway for so long that people no longer consider it retro but often fall back to it as an evergreen fashion pick for occasion and/or the season.
Worthy of note is its persistence and sudden upsurge amongst celebrities, especially in Hollywood. Being a retro style (though most people would object to this fact), it has seen new life in the variety of ways it is worn. Slowly evolving from the wraparound fashion in which it was worn in ancient times to chic pants and skirts even full-body suits carefully and subtly crafted in these unique prints for wear, it has further evolved to being used to make suit jackets, hats, etc.
Amongst the most popular of these animal prints are the snakeskin, leopard skin and maybe the tiger skin. But of the aforementioned three, the leopard skin still stands out. All leopard skin attire is giving flowery clothes a run for their money this season giving that its summer, typically the time to wear flowery shirts and dresses and hit the beaches.
The leopard skin is associated with royalty, warriors and deities and the print held sway in the 20th century. It was even used to craft and sew lingerie and bikinis. Even neckties weren't left out in the fashion trend as it could be spotted at evening dinners and on late-night party goers. It wasn't strange to see people going head to toe in an all leopard skin attire while some still preferred to be subtle by having touches of the skin here and there.
This summer, the leopard print attire is here with a bang. Almost everywhere is littered with leopard skin attired even down to the accessories carried around. And this has given credence to some of the hairs and wigs that are popularly worn these days. The Celest and Serafina being amongst the top. If you choose to go retro, go full-on retro.

THE FLIP-UP HAIRSTYLE 
The flip-up hairstyle is a common retro hair that has come back to stay. The hairstyle features smooth, sometimes short hair that is flipped up at the ends to form a nice chic looking hair that bobs. The major flip-up influenced wig styles are the Celest and Serafina.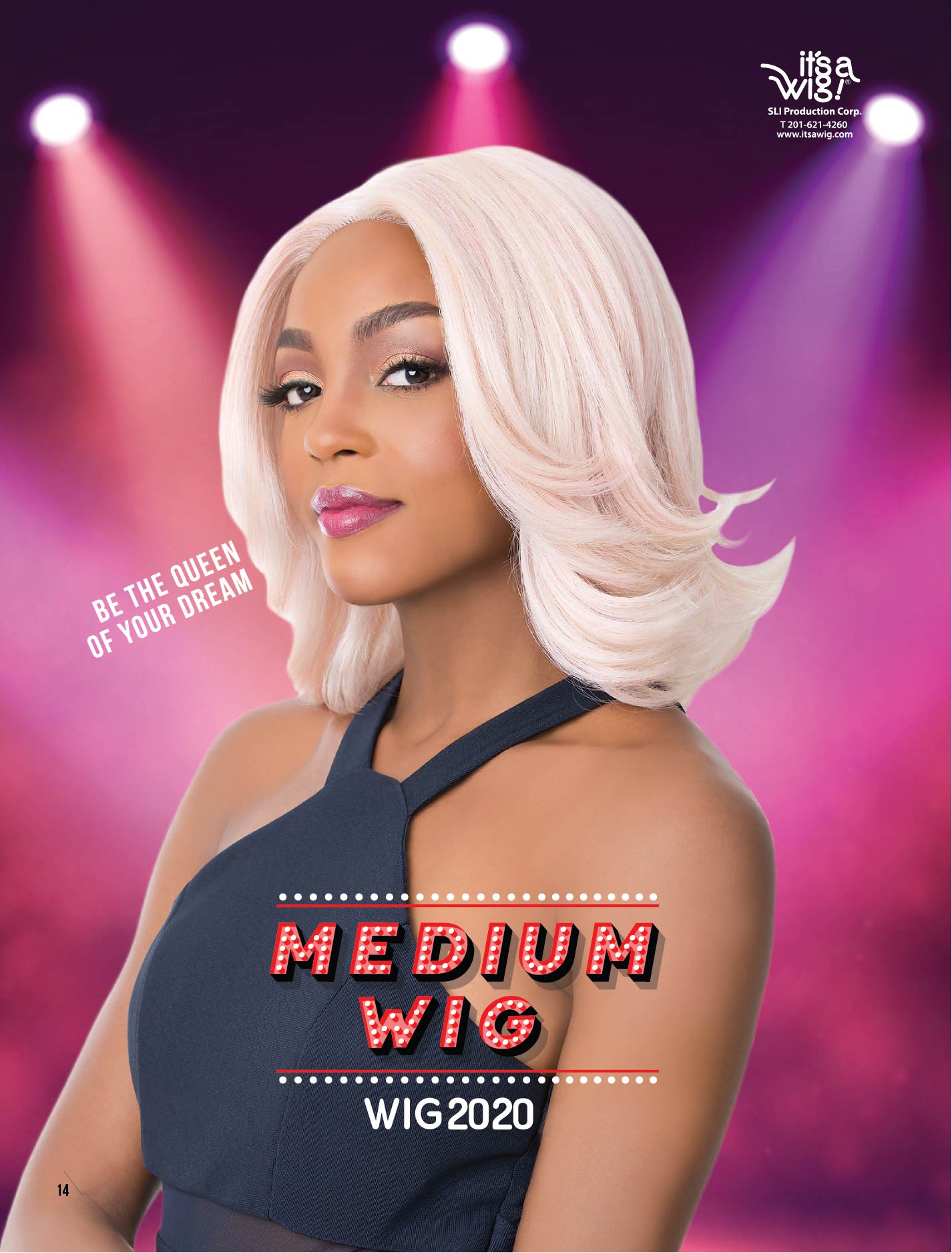 Swiss Lace Celest
Celest: The Celest is a smooth synthetic wig that flows down the head and sweeps back up at the tips of the hair strands. It's a swiss lace which is about 7'' with a natural density and an undetectable flawless hairline. It has a frontal protective style and is heat resistant and can take up to about 400 degrees Fahrenheit of heat.
It comes in the various color of black, rose/gold, royal blue, hazel, pink, emerald, and wine. Any of these colors would go perfectly with a nicely tailored retro leopard skin dress and would be a head-spinner in any occasion.
Serafina: The Serafina version of the flip-up influenced wig come in a tad bit longer variation than its sister- the Celest with a length of about 9". It is made of swiss lace and comes with a center part at the middle of the head. The hair sweeps down and just hangs above the shoulders where it is upturned. It is also heat resistant hence it can be ironed to straighten it out.
It comes in a wide range of beautiful colors too such as Burgundy, Royal blue, rose gold, emerald, pink, black and brown. Colors are similar to the Celest.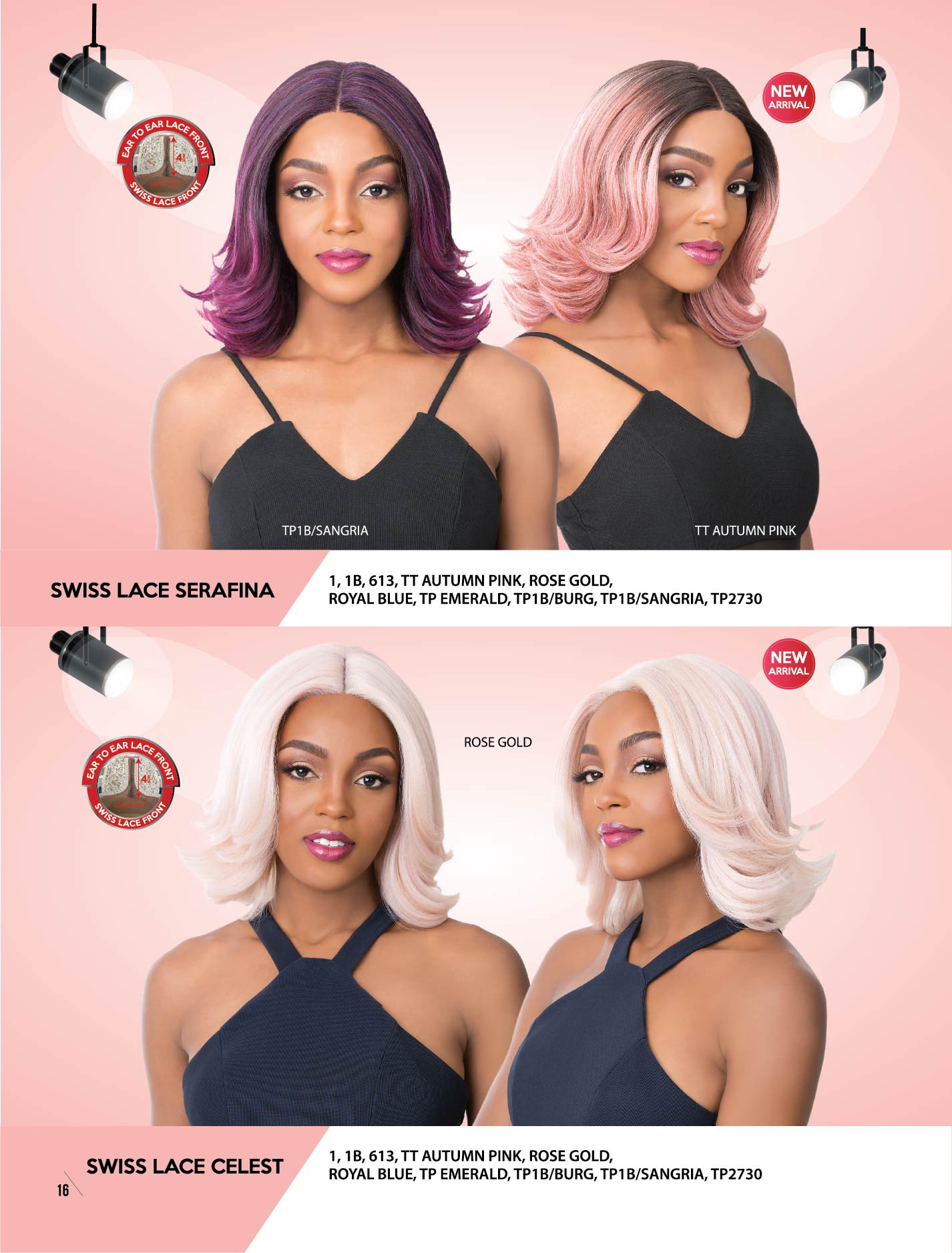 Serafina & Celest
All in all, the return of retro styles should be graced with new fashion trends to tone it up hence the improved flip-up hairstyles would be a wonderful way to achieve that. Stay Beautiful!