SPOOKY TIMES? HALLOWEEN TIME

It's October and Halloween is here to add spice as it usually does this time of the year every year. Apart from the traditional trick or treat that involves dressing up in costumes (mostly scary costumes) and appear at people's doorsteps for sweets and treats. But apart from that you could opt to watch a movie, preferably a scary one, throw a Halloween party with some Halloween party games to boot, take a walk on the beach with that loved one or just stay home cooped up in your sofa watching TV and stuffing yourself with snacks. Whichever it is, the idea is to have fun.
But as Halloween is almost upon us we also have to start looking the part early enough. Although fall is the season for a darker hair tone Halloween is the perfect time to have a complete makeover. Switch up that hairstyle and color and give yourself a snazzy look that would add the rarrrhh!!! to your hair. Try a unique and eye-catching hairstyle and color that would make you look special and a cynosure of eyes during this season.
COSTUME PLAY INSPIRATION
Want your hair to blend in with your costume? Then worry ye not because some of the wigs at it's a wig have already been fashioned rhyme with whatever costume was worn by trick and treaters this season.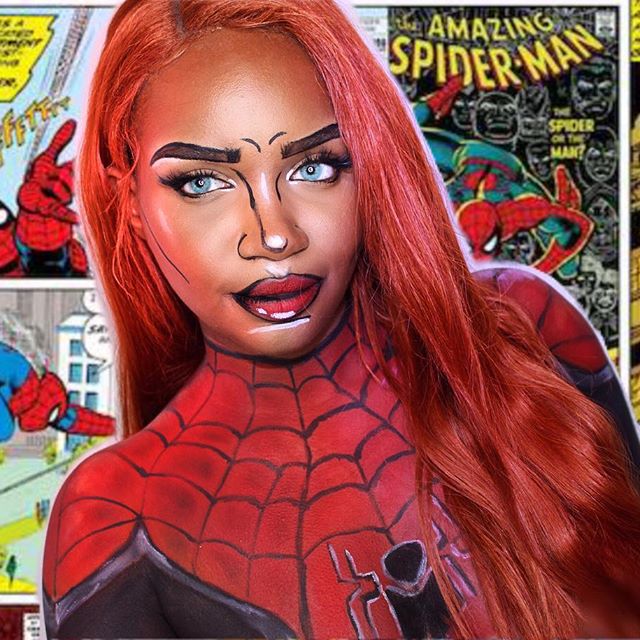 Spiderman, @evensyaxo
Using the 'Swiss Lace Valeria' wig in its 'Vivid Copper' color variant as an example, this wig is a perfect match for the spider-man costume (would also work perfectly with the iron-man costume if you so wish).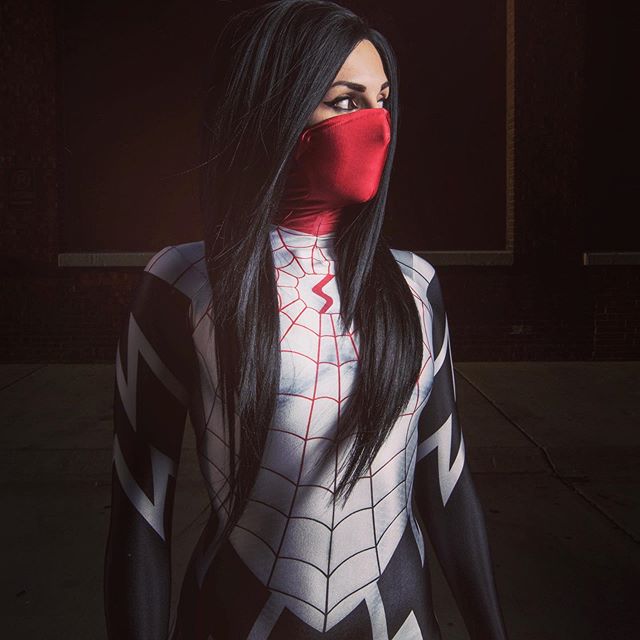 Spider Woman, @sutefaniiroozu
The 'Kahlo' variant isn't left out in the mix too as it can be sported with the Gwen Stacy Spiderwoman costume from Spiderman: into the spider-verse series. The length and color of the hair suit the role you would want to play.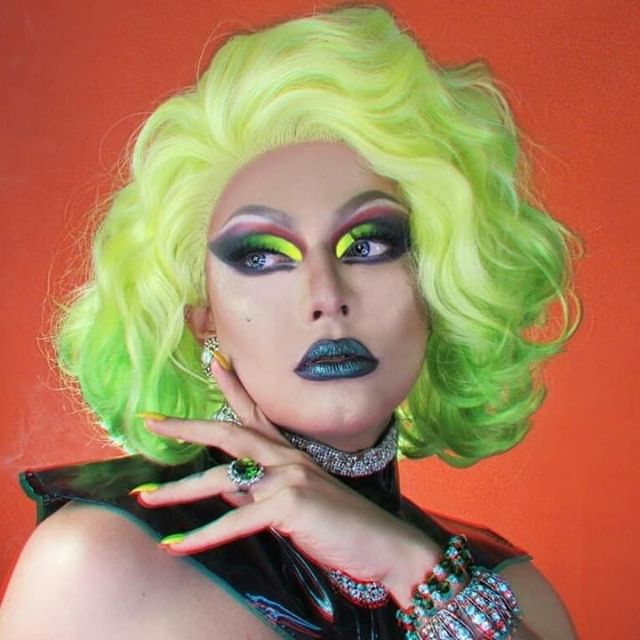 Drag Queen, @aqua._.green
Talk about the 'Swiss lace Kaso' in the 'Apple Martini' color, fantastic. Give yourself that drag queen look by dunning the wig, some heavy makeup, and gothic dressing and you are good to go.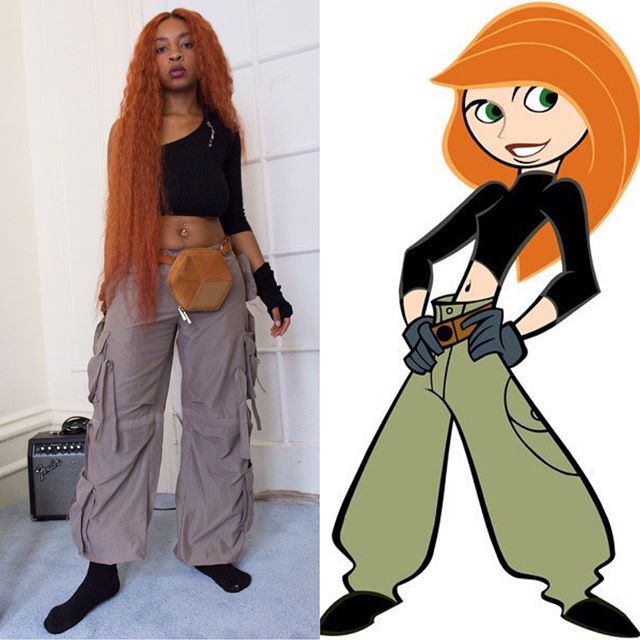 Kim Possible, @whereisshannonk
The wig 'Solei' in its 'Vivid Copper' color is sure to give the appearance of a carefree woman. Have that street look in a Kim possible outfit and a Solet wig to go with.
HALLOWEEN HAIRSTYLE AND COLOR RECOMMENDATION
Making your Halloween costume the perfect one requires that the hair and hair color are intact and amalgamates seamlessly with the rest of the costume. We would be looking at each of them to know how best to wear them.
1. HALLOWEEN HAIRSTYLE: CROWN BRAID
Crown Braid: The crown braid Bamba and Dabo is a pretty cute hair that would look great with any Halloween costume you choose to dun. It is a long flowing hair with wave that flows past the shoulders and has two braids starting at both sides of the back of the head to join in the center. It is popular for prom parties and the current weather is best for it.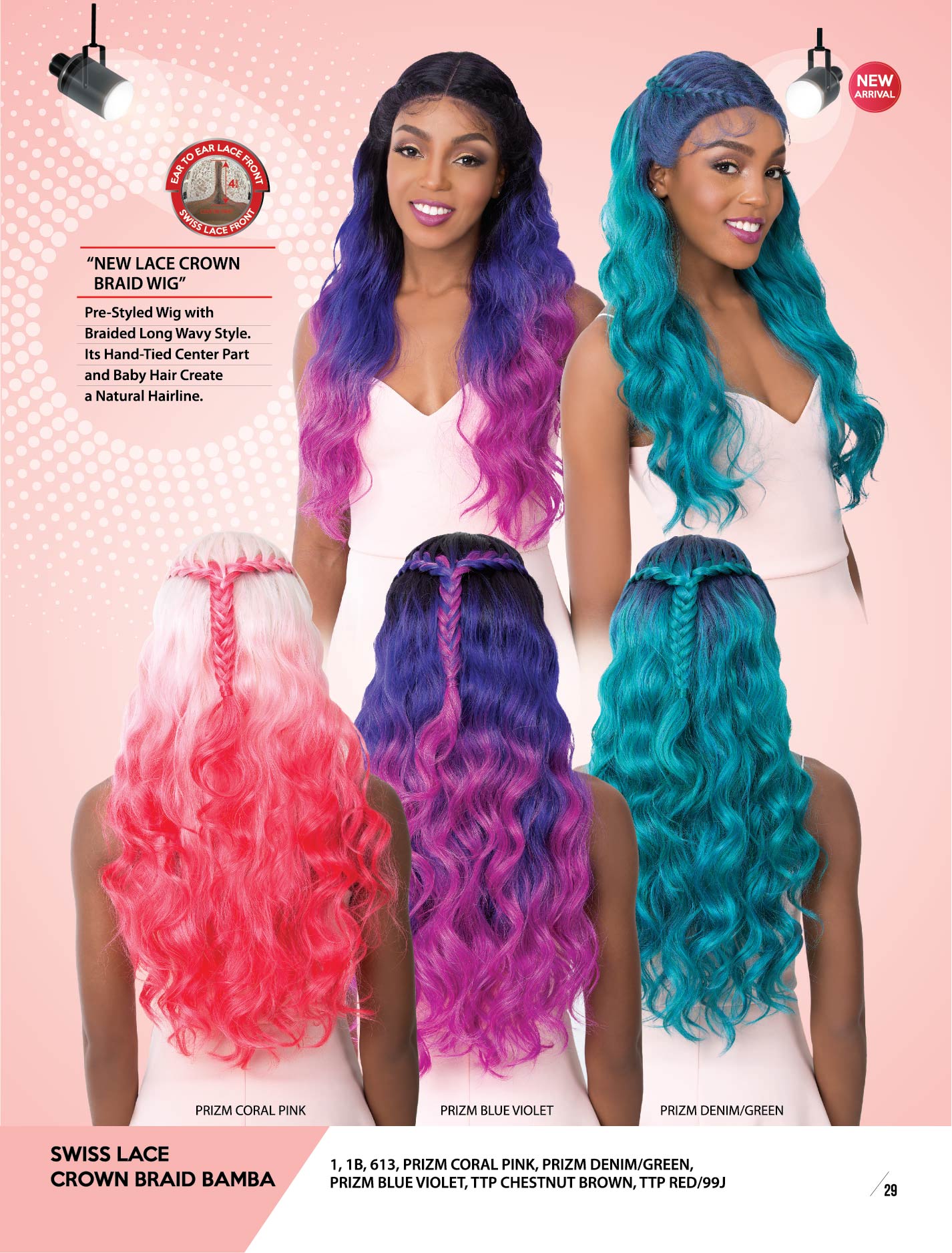 Swiss Lace Crown Braid Bamba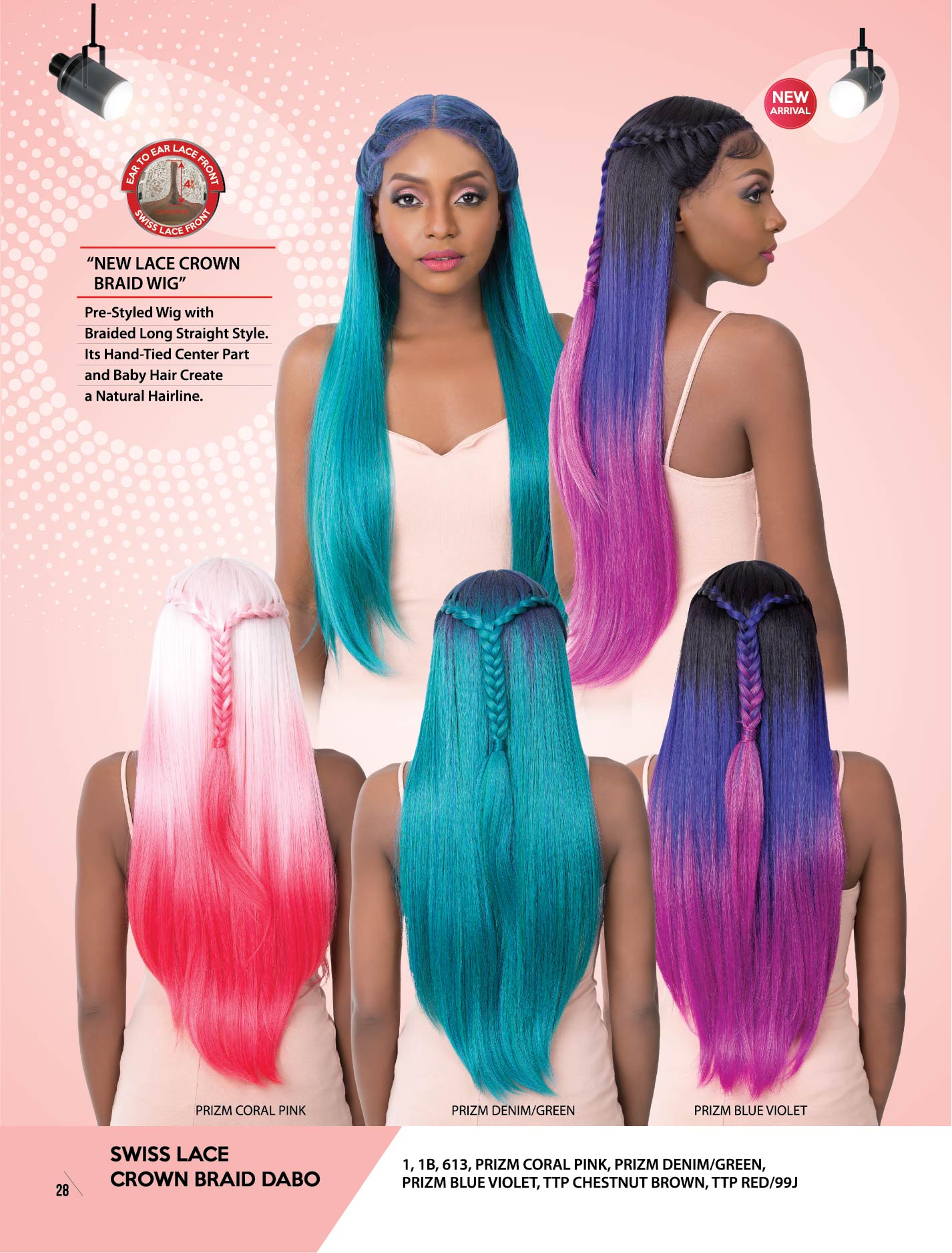 Swiss Lace Crown Braid Dabo
The Bamba and Dabo are pre-braided wigs so there's no need braiding it yourself as you have more time to style your costume and pay attention to other details of dress-up. Both wigs are long going past the shoulders but while the Dabo has a straight style the Bamba is wavy but both wigs are quite delightful to have.
They both come in Prizm color that keeps you glowing and making you the special guest at the party. The Prizm color gives the hair color variants that that would make the mermaid costume pop (or any other costume you deem fit to wear). If you want to learn much more about the 'Prizm Color' you can read our previous post.
The Swiss Lace Crown Braid Bamba has a hand-tied center part with a baby hair that creates a natural hairline. It comes in coral pink, Prizm Blue-Violet, TTP chestnut brown, TTP Red and Prizm Denim Green. The pre-styled wig with a braided long wavy style is great for Halloween parties.
The Swiss Lace Crown Braid Dabo is a pre-styled wig with braided straight style with a hand-tied center part and a natural hairline. It comes in beautiful variants of Prizm Coral Pink, Prizm Denim Green, Prizm Blue-Violet, and Chestnut Brown.
2. HALLOWEEN HAIR COLOR : UNICORN COLOR
The Halloween is usually characterized either with flashy red or black color (used to depict blood and gore) and other stereotypical dark colors, but won't it be fun if the colors featured in your Halloween costume is a blend of different subtly bright colors, something like the tail of a unicorn. Have you ever wondered how you would look in a hair with pink, blue, green, purple, red, yellow with your favorite Halloween costume? Resplendent is the word.
The Unicorn colored hair is absolutely the best for Halloween simply because it incorporates a lot of colors in a nice blend without giving off the clown-like look. The color would suit whatever costume you chose to go with. It doesn't just mix with a cacophony of colors, it mixes with a blend. Why this wig is favored for Halloween is that it can be worn with any Halloween costume seamlessly without having any color clash. Also the unicorn color has a subtle way of highlighting whatever outfit you choose to wear ranging from the undead to the superhero all the way down to the sultry, all would be brought to light with a unicorn wig atop the head.
And if you are wondering what the origin of the unicorn color is or wigs that are featured in this color, you could look up a post about it here, I bet you would be thrilled.
Finally, Halloween is a season to dress-up and get treats in your basket or attend great parties, why not slay while you are at it with great wigs that would make you the star of the show. Try it.
Happy Halloween !