PRIZM COLOR: YOUR WIGS IN COLORS
The age of wearing traditional and boring black or brown colored wigs has passed. Colorful wigs are all the rave these days and to this end, we have crafted and applied unique coloring to the wigs we offer. We call the colors the PRIZM. While some wigs come in just one color tone, our PRIZM colored wigs can come in as much as 4 different color highlight that both complement each other and also complement you. Fun right? Before diving right into the hues and shades of colors our wigs come in a brief explanation of what inspired these beautiful work of art is in place.



WHAT IS PRIZM COLOR ?
Prizm colors are the different shades of colors that are obtained when white light is passed through a prism. This process is known as dispersion. The lights are separated into red, orange, yellow, green, violet, blue and violet. These colors were to infuse the prism colors into trendy styles to conceive chic and fashionable appearance.
>> Swiss Lace Sun Dance-2, PRIZM Color Variaton

NEW PRODUCTS
- SWISS LACE HOUSTON 2
Amongst our brands of Prizm colors inspired wigs is the Swiss Lace Houston 2. This brand synthetic wig is made with swiss lace. The pattern of the hair is curly with a silky texture. The lace front wig flows down the shoulder in a long sweep which can be adjusted to be short. With a center parting space of 3.5", the wig can is suited for any face shape as we paid special attention to the parting trend. Care for the wig isn't difficult as it is heat resistant and hence easy to iron.

The Swiss Lace Houston 2 comes in a list of fun colors for you to pick from. They are:
Prizm Lemon Drop

Prizm Lilac Purple

Prizm Mermaid

Prizm Mint Green

Prizm Ocean Blue
The Prizm Lemon Drop just as the name suggest is a beautifully crafted wig with a lemony hue of yellow. It starts off with a lighter shade at the top of the head and has its yellow deepen as it flows down the shoulder unto the back. The Prizm Lilac Purple in the same vein is a curly mass with shades of white, lilac and purple. This variant was made with the stylish and color-loving ladies in mind.
The Prizm Mermaid gives you that surreal feeling of being a water sprite. With some many subtle colors entwined to produce a wig that complements whatever accessories or clothing you have on. You can never go wrong with the Prizm Mermaid. The Mint Green is another top pick off of this shelf. Almost white at the top and then a deep mint green color further down gives you that haute demeanor.
We also have the Prizm Ocean Blue which has consistently been a sought after a specimen of all the wigs in the swiss lace Houston 2 series. The light blue mane of thick curly hair can work with any skin color and face shape.
- SWISS LACE SUNDANCE 2
The Swiss Lace Sundance hairline is a synthetic silky and long variant of wigs from the It's a wig company. Varying from the swiss lace Houston, the sundance has a wavy hair pattern with a nude lace color. With a wider parting of 4'', the Sundance line will frame your face perfectly well. The colors in this line are:
Prizm Mint Green

Prizm Mermaid

Prizm Lilac Purple

Prizm Lemon Drop

Prizm Ocean Blue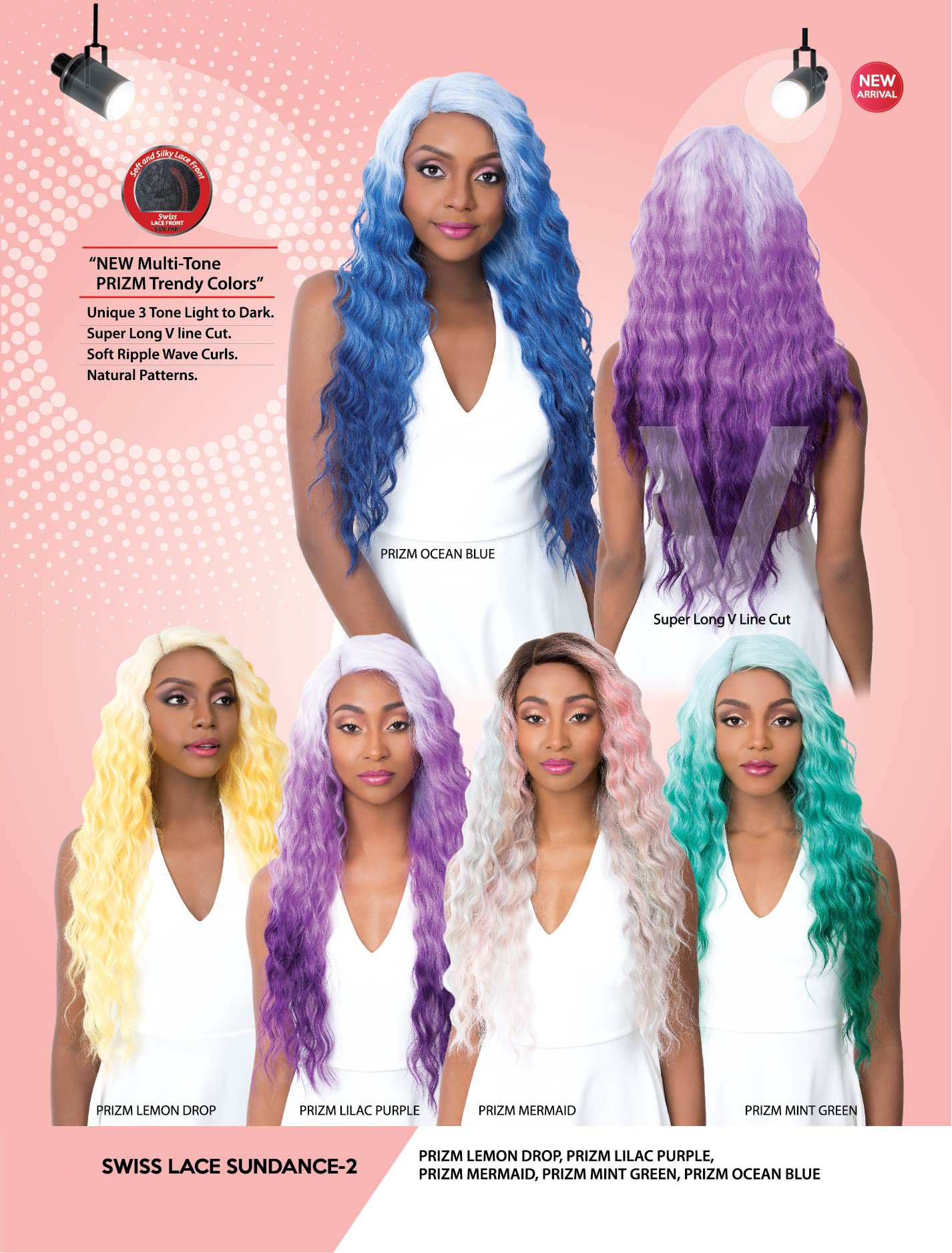 The colors which are similar to what is obtainable with the Houston 2 are all highlighted to give you that cool look and complement your skin color and tone. The Mermaid variant, for instance, comes in a mixture of beige, brown, purple, yellow, green and pink. The luxurious hues and colors on the mint green, lilac purple, and ocean blue all make top picks for buyers everywhere as the dual-tone coloration of the wigs are loved for their vast variations and limitless functionality. Whether it be Swiss Lace Houston 2 or Swiss Lace Sundance, they will surely add flatter your appearance and oomph to your trendy fashion.