THE ERA OF SYNTHETIC HAIR IS UPON US



WHY SYNTHETIC HAIR
Human hair has had its fair share of reign in the past few years and is gradually giving way to the new rave which is the synthetic hair. With the advancement of technology, synthetic hair has speedily and consistently become more and more realistic; they are almost mistaken for human hair these days. The hair industry I am sure is the last you would consider when you count the industries that technology have transformed, but this is not true because starting from the materials and hair extensions down to the hairpieces used in making synthetic wigs, you will see that technology has drastically improved the synthetic hair capabilities over the years which is evidenced in the rise in demand.
The question of "Is this your real hair" or "is this human hair" is now rampant as synthetic hair almost feels and looks like natural human hair. The density and texture of the hair fibers and follicles have been improved over the years to have a tougher and thicker feel.
Moreover, the human synthetic, thanks to continuous improvement, now boasts of its ability to hold its own when it comes to heat styling. The wigs made with synthetic hair are heat resistant and hence can easily be styled using heated curlers just like the human hair.
>> It's a wig Concept Book 

Click Here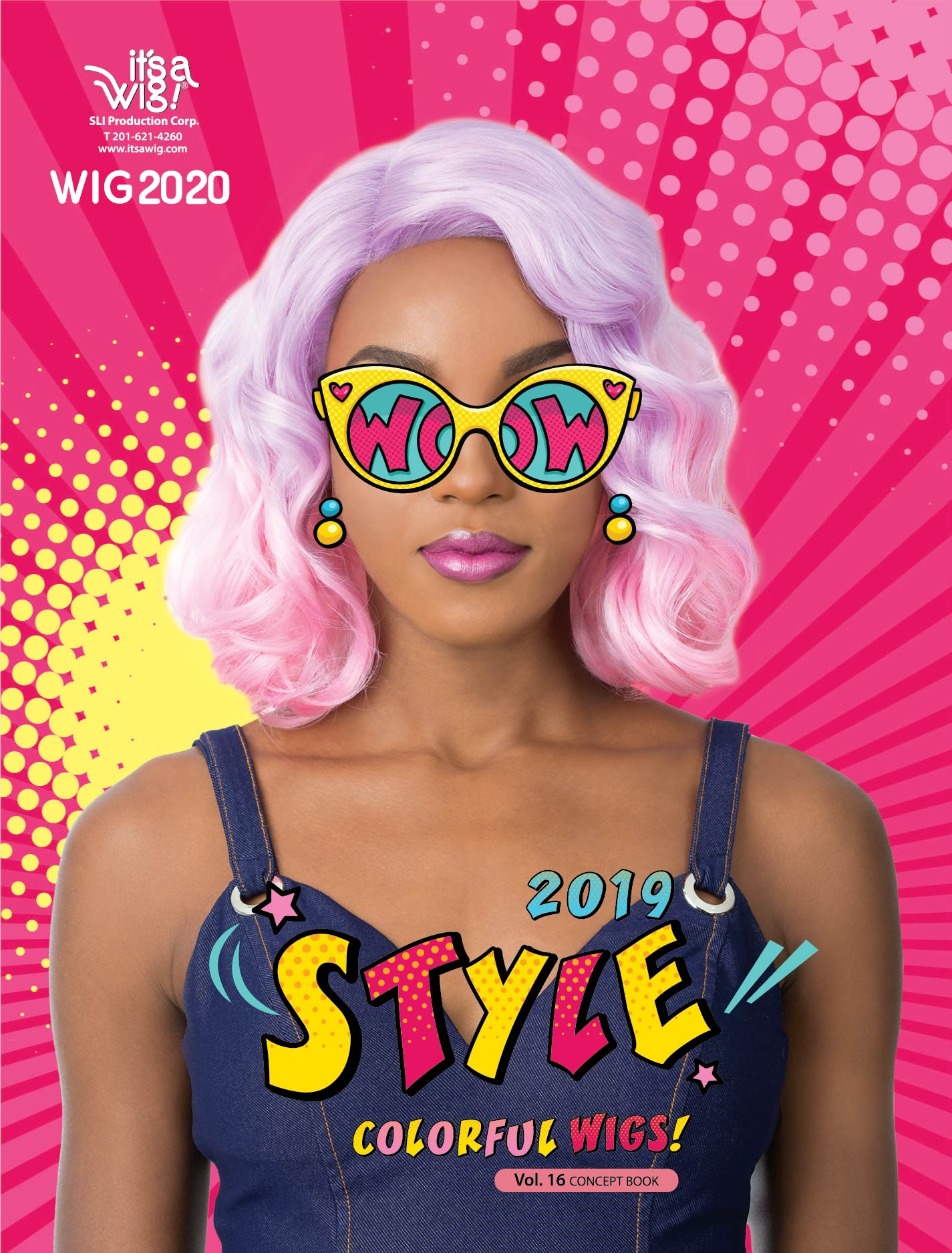 ADVANTAGES OF SYNTHETIC WIGS
AFFORDABILITY


It is no news that synthetic wigs are very pocket-friendly. They are cheaper than their human hair counterparts, hence the preference for a synthetic wig.

FLEXIBILITY
The synthetic wigs are flexible and hence can be styled in whatever manner that suits the owner. This feature also helps its affordability because instead of having several human hair wigs (Which are not so flexible) of different styles you can just have one synthetic hair and style it in whatever manner you deem fit.
COLOR
The color variety that comes with synthetic hair is numerous. The synthetic fibers can be fashioned to come in different colors and this makes them more fun to wear.
MAINTENANCE
Maintaining synthetic wigs are quite cheaper and easier. Styling them is easy, washing them doesn't give much stress and with a good spray, you can get the desired sheen required to keep the wigs glowing.

SYNTHETIC WIGS RECOMMENDATIONS
Summer is here and the heat comes with it. And with summer also comes the penchant to wear short hairstyles. To this end, we have provided you with a wide selection of short synthetic wigs that will make you stand out this summer. Guess what? It is very affordable too. We would be looking at 3 of the best selections of short synthetic wigs for you this summer with the styles they come in.
1. BOB STYLE – SWISS LACE MACON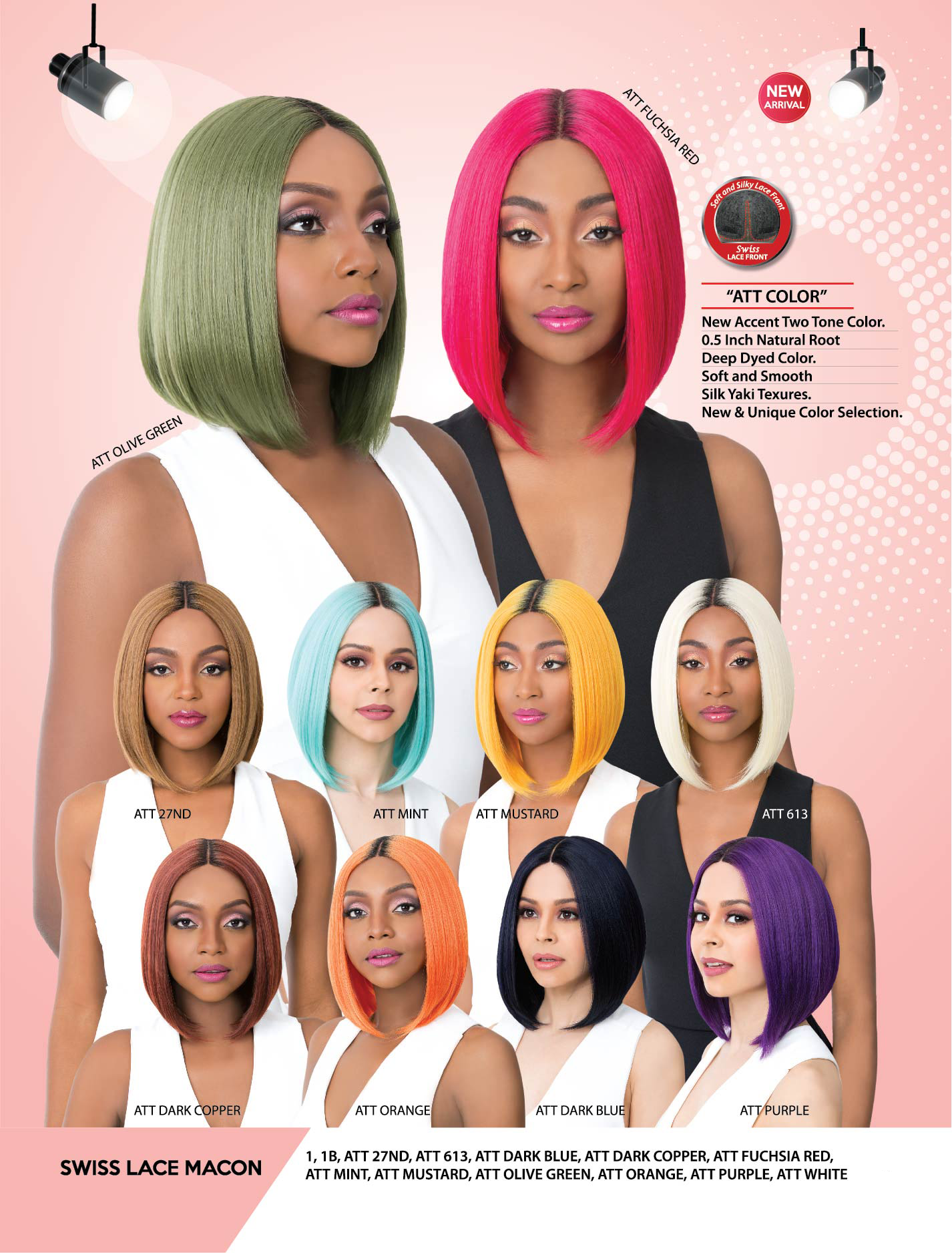 When it comes to Bob hairstyles, you can agree with us that this is a style that would not go out of fashion quickly simply because it's convenient and fashionable- you can ask Rihanna. The wig falls to about the neck level. The Swiss Lace Macon comes with a finished length of about 11 inches with ear tabs to hold it in place. It is straight with no curls and has a lace front. It comes with a first of a kind ½ inch dark narrow root and a shift-able part center which can be moved to the right or left as you so wish.
It is a one size fits all wig with a pre-tweezed natural lace part that takes off the stress of having to do that again. The fiber is made of silk yaki that is soft, smooth and very easy to maintain. It is available in fun and vibrant colors like Dark Copper, Fuchsia red, Mint, mustard, olive green, orange, white, purple and dark blue.
2. PIXIE CUT – CHICAGO
The pixie cut is also a top pick for summer, and when talking about the pixie cut hairstyle the Chicago brand is a fantastic choice. The pixie cut wig just wraps itself around the head in a cozy manner not getting in the way and keeping you cool even in the sweltering summer.
The Chicago pixie cut wig comes straight out of the box without a curl (except you wish to style it differently) and falls to a length of 8.5 inches. It doesn't have a lace front hence no parting but the hair covers the nape of the neck fully. It comes in colors such as peach pink, vivid orange, mustard, lime green, ginger, fire red, and charcoal grey. The direction of the hair flow can be styled in whatever fashion you wish. It doesn't require combing but can be brushed instead and just like the bob style version, it is very easy to maintain. This multifaceted wig is sure to keep you looking sassy all day long.
>> CHICAGO, Mustard, Lime Green, and Peach Pink
View this post on Instagram
3. FINGER WAVE- NUNA
The finger wave hairstyle, is also one hairstyle you would love to hit the summer with. And with the Nuna finger wave wig, you are sure going to hit the summer so hard. This is a wavy style wig that comes with a pre-tweezed side lace part out of the box. The part style has a length that ranges from 1.5-4 inches. It is heat resistant and hence can be ironed or styled with hot curlers. The wig styling is relatable and can be replicated on a whim even after washing.
It is a one size fits all kind of wig and comes with a breathable cap that allows air to get into your real hair or scalp as the case may be. It comes in a lot of vibrant colors that includes unicorn blonde, gold, jet black, coffee brown, blueberry, and red. The colors on the Nuna can be mixed too to create a cool combination.
>> NUNA, in the color 1B
View this post on Instagram

CONCLUSION
With our range of Chicago, Swiss Lace Macon and Nuna (which happens to be one of our best selling items), having a chic summer won't be a problem as these wigs are sure to have you covered for you to have an enjoyable summer.
>> It's a wig NUNA, Mustard